The magic of a camping comes largely from the joy of waking up in the mornings, at the edge of a silent lake or looking as far as the horizon will go from the peaks of a mountain top. In order to truly appreciate the view, however, it is necessary to have the necessary energy. Even in the forest far from the comforts of your cozy bed at home, it is possible to get a sound night of sleep. When it comes time to drift away into a deep slumber, choosing the right mattress is essential but having a sleeping bag suited to your needs really makes a big difference.
Before choosing your perfect sleeping bag, there is a wide variety of factors to consider. Do you want a mummy or rectangular shape? Down insulation or synthetic? The questions go on but once you've found the answers, you can start browsing our top 8 sleeping bags of 2017.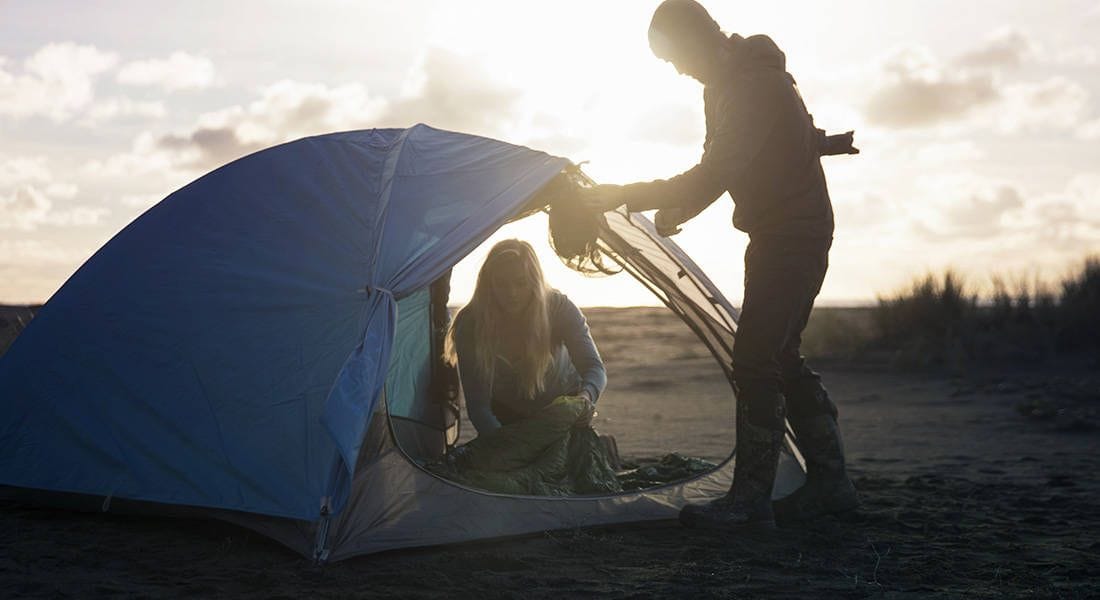 Top Sleeping Bags from 0°C to -20°C
Marmot Scandium
The Marmot Scandium is a composite sleeping bag that combines a down filling on the top and a synthetic insulation on the underside to protect you from the moisture that may accumulate the ground. With its weather strip that prevents drafts from entering through the zipper, this is an ideal sleeping bag for campers who like to sleep warm, even when the nights are cool.
The North Face Dolomite
Like the majority of rectangular sleeping bags, the The North Face Dolomite is perfect for warm, summer nights. Its spacious size allows adequate ventilation and freedom of movement. The bag is also equipped with a full zipper that will allow you to open it up and use it as a blanket if you wish. Finally, the Dolomite is composed of a Heatseeker Eco synthetic insulation, patented by The North Face and composed of 30% recycled material.
Mountain Hardwear Phantom Flame
Comfortable and durable, the Mountain Hardwear Phantom Flame sleeping bag is insulated with treated down making it moisture resistant. The model has a six-chamber hood as well as an ergonomic draft collar which reduces the amount of heat that is lost from inside the sleeping bag. The Phantom Flame is ultra light and very compact, making it the perfect sleeping bag for climbers or hikers who are traveling with restricted size and weight limits.
NEMO Equipment Women's Jam 
With the Jam, Nemo Equipment offers a hybrid sleeping bag model. Its cut is designed to offer more space than a mummy yet be spacious enough to move around inside all the while keeping the shape of a rectangular bag. Insulated with down, the Jam offers nothing but comfort for a night in nature. There are also zipper vents located on the front chest which can be opened to enhance air flow. This feature is ideal for those who tend to overheat while sleeping. 
Top Sleeping Bags from 0°C and higher
Marmot Always Summer
Weight only 2 pound, Marmot's Always Summer sleeping bag is a very light option. Insulated with 650 fill-power down, this sleeping bag is sure to provide you with a comfortable night's sleep under the stars. For those who suffer from cold feet at night, this sleeping bag is equipped with a heated pocket and extra space designed to allow more movement than in a traditional mummy sleeping bag. The Marmot Always Summer Sleeping Bag is perfect for the gentle summer nights when you spend the night admiring the stars from your bed.
Mountain Hardwear Hotbed Spark
The Hotbed Spark is the perfect synthetic option for all your warm weather camp outings. For those traveling in twos, this bag can be paired with another and zipped together using the full-length zipper. Equipped with vertically welded Lamina™ construction, you're sure to be warm and comfortable no matter where you sleep. This construction maximized loft and eliminates cold spots in locations where warmth is critical.
Big Agnes Thunderhead SL
The Big Agnes Thunderhead sleeping bag offers a unique system of clips and buckles to get in and out of your sleeping bag in silence. No more noisy zippers waking up your tent mates late at night or early in the morning. Insulated with down, this sleeping bag is a compact, lightweight sleeping bag with a wide inner collar designed to keep drafts at bay and keep you warm.
The North Face Campforter Double
For duo camping adventures, the The North Face Campforter is ideal. It is a spacious sleeping bag, large enough to comfortably accommodate two people. It also has enough space at the head to install a pillow. Insulated with down that meets the ethical standards of the Control Union Certification, the Campforter is rather light despite its size.