TESTESTESTET travel outfit starts with comfort. Columbia's range of travel clothing makes summer getaways more comfortable than you can imagine. With sun protection, wrinkle-resistance and packability, these ensembles work from airport touchdown to urban exploring – no need to change at the hotel. Choose a hat to keep the UV off. Find tops and bottoms that shield from the sun and look the part. Pull out a compact emergency rain shell when the weather turns. Everything you want for warm weather adventures comes in Columbia's clean styling.
For him, the Silver Ridge Lite long sleeve shirt paired with the Royce Peak II short is the place to start. Buttons on the sleeves let you fold them up into a short sleeve profile for transitioning from air-conditioned airports and lobbies to outdoor streets. Comfort stretch and zip pockets in the shorts keep you moving in security when exploring unknown cities.
| | |
| --- | --- |
| Silver Ridge Lite Long Sleeve Shirt – Men's | Royce Peak II Short – Men's |
Both pieces use Columbia's Omni-Shade UPF 50 sun protection to great effect. Formal enough for the customs line, casual enough for days on the patio, you can't go wrong with either piece. Throw on a Silver Ridge III ball cap woven with Omni-Shade and stay protected.
| | |
| --- | --- |
| Pilsner Peak Novelty Short Sleeve Shirt – Women's | Anytime Casual Skort – Women's |
She is going to feel and look great in the Pilsner Peak novelty short sleeve shirt and the Anytime casual skort. They're built with comfort and a touch of formality that mixes business with pleasure. Glide through Vancouver's terminal and head downtown or hit the surrounding trails – these work in any environment. The top has hidden vents and a secret stash pocket. And how about a wicking, stain-resistant, adjustable skort? It's like they knew you were heading out of town.
These pieces include Omni-Shade sun protection for the safest summer roaming. The UPF 50 rating wards off UV effectively. Look smart, feel great, go anywhere in both. Cap it all with the breathable Bora Bora II Booney sun hat with Omni-Shade and lend a touch of the classic explorer to your trip.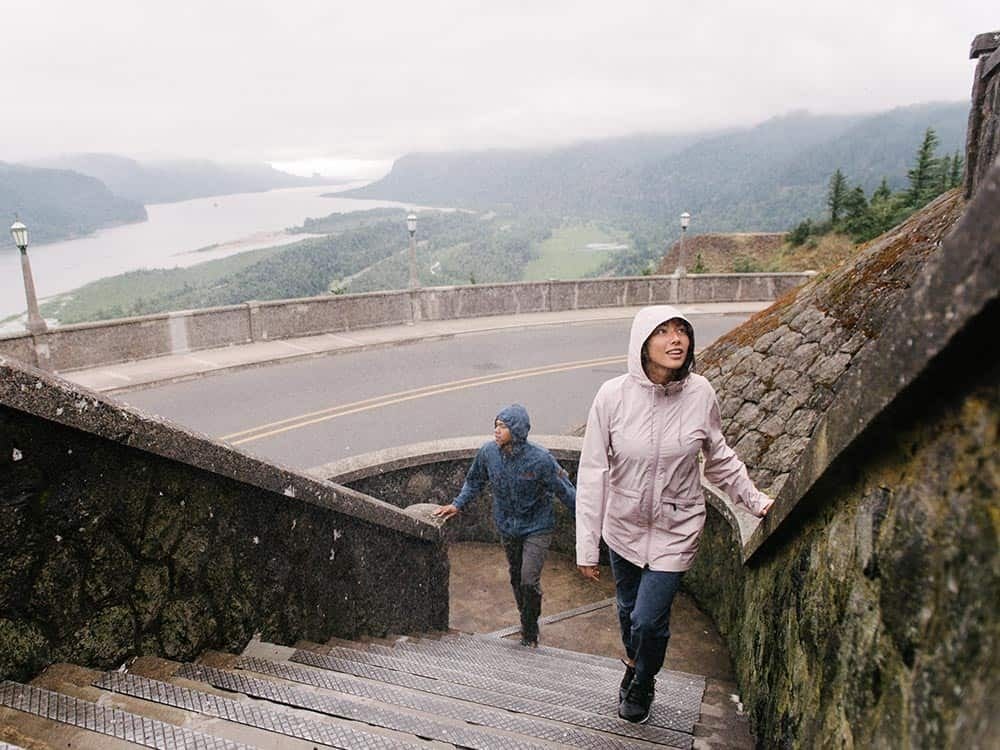 We can't talk travel without mentioning the weather, like an unforeseen Maritime squall to temper the sun. Columbia's packable, lightweight waterproof shells were made just for these sudden downpours. A Watertight II jacket will keep him shielded from rain and packs so small you hardly notice it. The Splash A Little 2 waterproof jacket bundles tight when you store it and seals out moisture when it's needed. Zip hand pockets and Omni-Tech breathable waterproof technology keep you and your travel essentials secure.
| | |
| --- | --- |
| Watertight II Jacket – Men's | Splash A Little 2 Waterproof Jacket – Women's |
No-one wants to be underdressed at the check-in desk in or stand out changing money downtown. Columbia's travel style is best described as understated formal. It's the perfect way to blend in with the crowd when purchasing tickets to the bus tour or visiting the local weekend market. Be relaxed and keep your mind on your trip.  
Practical travel wear should be comfortable, no matter your journey or activity. Columbia blocks harmful rays, shuts out the rain and helps you look the part. Their innovation means lightweight, packable summer gear for you, the modern voyageur.